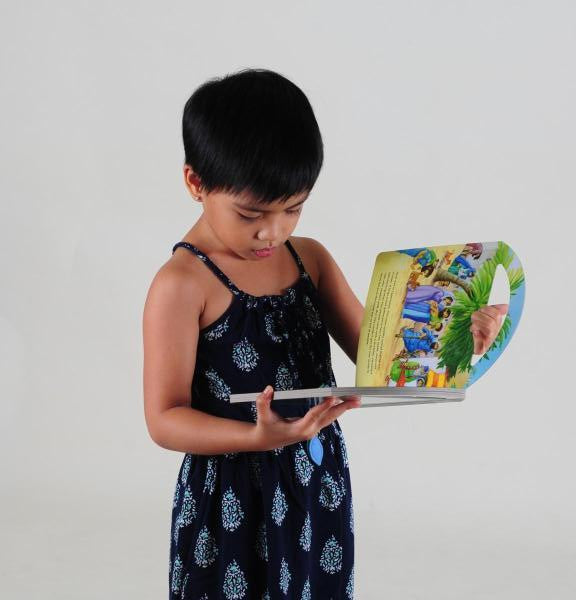 Pumplepie Books & Happiness was actually inspired by a true story. A friend was selling children's books at a school fair when a little boy picked up a board book. He started swiping the cover like he would a tablet. After briefly watching his futile attempts, my friend helped show him the inside pages of the book. She learned in their conversation that he did not  have books at home. When the boy's mother came to pick him up, he wanted to show  her the books and she said to him, "You don't need books, you already have your tablet."(Cue my breaking heart.)
Go to any restaurant and look for a table with a child of any age. Chances are, that child will be holding his parent's phone or his own tablet. He will play with that gadget the entire time they are in the restaurant, even throughout his meal and will not interact with anyone nor even look around to see what's around him. Never mind that the child is still in a high chair, he already has a tablet. It's become a diaper bag essential.
Gadgets do make life easier for you but Instead of packing a tablet, try packing books in your bag. They come in all shapes and sizes, chances are, they're even lighter than your gadget. If you're still unconvinced, Adriana and I have put together 5 Reasons Why We Need to Give Children's Books A Chance:

#1 BOOKS MAKE YOUR KIDS SMART(ER)
I was going to say smart but Adriana insisted books make kids smart-ER. Guess what, she's right! Some kids are genetically predisposed to be smart (ehem!) but giving them access to books is like giving them the whole universe. Have you noticed how fast kids process and retain information? It's freaky!  When you're a kid, no topic is boring because everything is news to you! Read Binibining Bettina Bote with your child and watch her go through different emotions. Then after reading, listen as she voluntarily discusses the fun possibilities of recycling those countless plastic water bottles that you throw away daily. Compare this experience to just leaving her to play an ipad game, see what we mean? I started reading to Adriana as soon as she was born and after five years and countless books, I can definitely confirm that books have made her smart-ER.
#2 THERE'S A BOOK FOR EVERY TOPIC
Your child doesn't like eating vegetables? Try reading Joey and the Veggie Gang  and we can guarantee that your kid will start eating vegetables. We can't commit long-term effects, but she'll definitely be more willing to eat vegetables immediately after one reading. This is one of our favorite books to give to friends, and mommies always report that it's effective! Do you need help on sensitive topics such as being separated from your spouse? Are you raising your child without a father? Are you an OFW and your child misses you terribly? Are you a blended family? What about questions like, "Mama, why is that man dressed like a woman? Why do those women wear veils over their heads? Why does my friend have two mommies instead of a mom and a dad?" Yes, we have Filipino children's books on pumplepie.com to help you answer these questions. Because they are written by Filipinos, the books are socially relevant to our culture and illustrations are by world-class artists.

#3 BOOKS ARE INEXPENSIVE
On pumplepie.com, our softbound story books start at Php65 and average at under Php100. If you go to a second-hand bookstore, you can buy classics for Php35, good condition Dr. Seuss for Php50 and current hardbound reference books for Php180. For the price that you pay for a high-end tablet plus apps, you can already finance an extensive library for your child that will last him several years, probably longer than a tablet. You don't even have to do it in one blow, I used to spend under Php250 and get Adriana three books. When I felt like splurging, I'd spend Php500 and get her over a dozen second-hand books. Her library grew and grew without me ever feeling that it was an expensive exercise. She still occasionally picks up books she loved when she was a baby and we still use them as reference. After five years of service and counting, they're well worth the minimal investment!
#4 READING TOGETHER IS A WONDERFUL BONDING EXPERIENCE
Adriana and I have been reading together since the day I brought her home from the hospital (she was a 28-week preemie). While I held her against my heart, I read to her beautiful, enchanting, funny, mysterious and silly stories. Her eyes could barely open, but she would listen to all my stories. She will soon turn six years old and she can already read by herself but she still insists that we have story time together. Reading has become a part of her life and she's come to associate it with people she loves.
#5 IT'S ALREADY CHRISTMAS
Yesterday, I walked five steps into the mall then stopped. My ears perked up, there was something different...then  I realized they were playing Jingle Bells over the sound system! It's Septem-BER! It's Christmas season already! We all know what happens in toy stores during the holiday rush - parents, grandparents, ninongs and ninangs frantically fill their shopping carts with expensive, big, bright, shiny plastic toys then queue for hours to checkout. Chances are, these gifts will end up in recipient's 'neglected toy pile' sometime between Christmas and New Year. For this gadget-savvy generation, based on the reasons mentioned, we encourage you to give BOOKS!